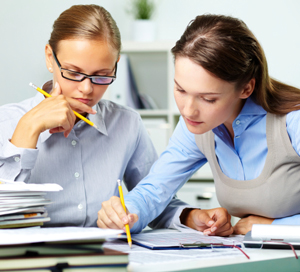 Our clients choose us because:
We give them more time to work on their business, rather than in it.
We don't increase their headcount.
Our certified bookkeeping team has a range of complimentary skills and expertise to contribute.
We work closely with each client's accountant.
We're Auckland based with national and international clients.
Our checks and balances prevent fraud and provide a clear audit trail.
Our team approach means there is always someone on hand to answer questions.
Our team takes away the stress of business administration, and provides business owners with an accurate and up-tp-date set of books to work from.
Our Team
Susan Jelicich

Vereen Bernell is led by Susan Jelicich, a bookkeeper and administrator with 25 years' experience. As well as working with a range of small business, sole traders and larger organisations, Susan's own experience as a business owner means she understands the importance of choosing the right support team. Susan's experience and knowledge allows Vereen Bernell to present small business owners with affordable, effective bookkeeping solutions that reduce stress and increase efficiency.
Larene Jackicevich
An expert in Xero and MYOB, Larene is also a whiz with payroll and PAYE obligations. Her methodical approach ensures that deadlines are met and her previous experience with not-for-profit organisations means she understands the importance of keeping data up-to-date for monitoring against budgets and cash flow.
Administration Assistants
Our admin assistants keep on top of housekeeping jobs, such as sorting client mail, filing, scanning of documents for archiving and data entry.